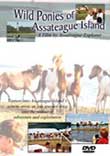 < DVD > 60 mins. Great footage of the legendary wild ponies and other wildlife along Assateague Island. Features the famous annual Pony Swim event. Highly recommended for horse lovers and families.
< Book >
A must read. Great book for children. A story based on real life on Chincoteague Island. This book made Chincoteague Island known to the world.
< Book >
The story of Assateague when people still lived there. Many historical facts and nice photos w/ map.